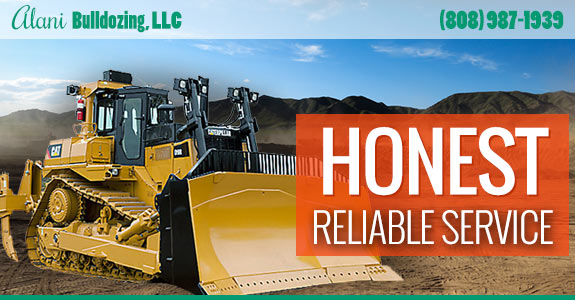 Excavating services in Pahoa, Hilo and Keaau Hawaii are a little more difficult to do well than in many parts of the world. That's because our moist land makes removal and clearing a bit of a challenge, and it takes the proper knowledge, experience and equipment to handle the job. Here at Alani Bulldozing, LLC, we specialize in excavation, land clearing, bulldozing and ground preparation, and our methods make sense on Hawaiian soil. Our company is run by a proudly Hawaiian family, which means we understand the land the way other contractors might not. Here's a look at why we're the best option for your residential, commercial or agricultural excavation needs:
Residential: Whether you're building a new home or just need to clear out your back yard, Alani Bulldozing, LLC can deliver excavating service in Pahoa, Hilo and Keaau Hawaii and beyond that will suit any residential property. We understand that having strangers tearing up your land can be more than a little nerve wracking, which is why we focus on treating you with respect and providing open communication every step of the way.
Commercial: As a family owned local business here in Pahoa, Hilo and Keaau Hawaii, we relish the opportunity to help other businesses grow and thrive. To that end, we're happy to provide reasonable rates and excellent excavation services for all Hawaiian commercial spaces. We know commercial properties come with their own set of challenges and requirements, and we're confident that we can meet them.
Agricultural: As we've mentioned, the moist Hawaiian soil is among the most difficult to manipulate. Fortunately, our powerful Caterpillar bulldozers and expertly trained staff are up to the task. We understand how important healthy land is to an agriculturalist's livelihood, and we'll always treat your land with the care it deserves. If you'd like to hear more about our top of the line agricultural excavation equipment, give us a call anytime.