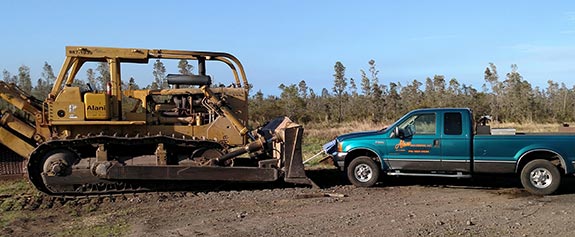 As our fellow Hawaiians know, septic tanks are crucial to our way of life. A large number of properties require their own septic systems here, and there's a surprising lack of local businesses that can provide reasonably priced and quality septic system installation in Pahoa, Hawaii County, Hilo, and Kailua Kona, HI. At Alani Bulldozing, LLC, our family-owned business has made a name for itself by providing quality excavation and land clearing services. But that's not all we have to offer. Our septic tank installation matches our excavating services in excellence and affordability, and we offer this service for residential, commercial and agricultural properties. Here's a closer look at all three:
Residential: Having a properly running septic system installation on your property is crucial to the comfort and happiness of you and your family. As a family run business, Alani Bulldozing, LLC understands how crucial this need is, and we promise to always deliver timely and consistent service for your household. When you trust us to install your residential septic system, you can be confident that it will last your family for many years to come.
Commercial: As a business, we understand that a commercial space's septic system needs are going to be much greater than those of a single family home. We have the proper training, equipment and septic parts to suit a commercial space of any size, and we'll work quickly and efficiently to protect your bottom line. Plus, we're fully bonded, licensed and insured, so you don't have to worry about being left with a faulty system and a huge bill.
Agricultural: Hawaii is home to a host of amazing native plants and crops, and in order to keep those plants safe and healthy, you need a foolproof septic system. Alani Bulldozing, LLC understands Hawaiian agriculture, and we'll handle a septic tank installation you can count on. Contact us today to learn more about our services.